***Crucial Piano Report***

For the first time ever, piano expert, Jonathan Powell sits down in the studio and records everything he knows about playing contemporary, urban-styled gospel music by ear!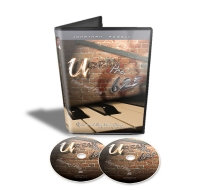 Once again, you can expect not only to hear super phat chords and full-sounding progressions in this 2-hour audio course, but he really takes his time and breaks everything down... STEP-BY-STEP and in an instructional format!
The Hear and Play Music philosophy is to "teach," first and foremost before anything else. They can't stand those courses that are just "CONCERTS" and a way for musicians to show off. While they are surely inspirational, they often times lack substance.
Not here!
With that said... you get the best of all worlds. The "how," the "when," and the "why."
In this revolutionary course you'll...
Learns the secret about major scales that most top musicians use in their urban gospel playing but never want to talk about.


Understand the underlying similarities and differences between the 3 most popular types of seventh chords used in urban playing and how to place them in a way you'd never imagine!


"Individualize" your style and set yourself apart from the pack by utilizing tons of extended chords and two-hand voicings that are only known by a few (he's risking his reputation by giving away these secrets).
Learn the secrets to building fancy minor seventh chords for use in contemporary worship settings (....this is extremely important and will have you sounding several times better the minute you implement them).


Find out the secrets to the "7th tone" and when to lower it. Between the 3rd and 7th tones of your chords lie many secrets that allow you to instantly manipulate almost any chord to produce the sound you want!


...And so much more!